M Maithili Sai sree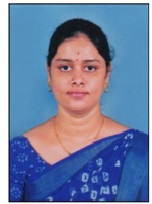 Designation:Assistant Professor
Research Interests:Soft Computing, DeepLearning, DataMining
Qualifications:

MTech, RVR&JC College of Engineering, Guntur,India.

BTech,Vignan's Nirula Institute of Tech. and Sci.for Women,Guntur,India.

Date of Birth:
10-08-1995
Date of Joining:
04-07-2022
TotalTeaching Experience in this college
4 Months
Total Teaching Experience:
2 Years 5 Months
I Worked as an Asst.Professor inVignan's Nirula Institute of Tech.and Sci.for Women, Guntur, India from 16-09-2021 to 30-06-2022 in the department of CSE.
I Worked as an Asst.Professor inVignan'sNirulaInstitute of Tech. and Sci. for Women, Guntur, India from 31-05-2018 to 30-10-2019 in the department of IT
Patents Granted/Published
Sl. No.
Patent Title
Applicant's/
Inventor's Name
Country Name
Patent Application No.
Date of Publication
Status
1
AUTOMATED WEB PAGE LAYOUT DESIGN USING GENETIC ALGORITHMS
M Maithili Sai sree
India
202341025658 A
05/05/2023
Published
Subjects Handled:
Human Computer Interaction , Object Oriented Analysis and Design(OOAD), Unix and Shell Programming, Cloud Computing,Database Management Systems, Design and Analysis of Algorithms, Software Engineering, Software Testing Methodologies, High Performance Computing, Artificial Intelligence.
Conferences :
M Maithili Saisree "Cloud Based Information System To Develop Village Tourism" Third International Conference on Artificial Intelligence, 5G Communications and Network Technologies (ICA5NT 2023) organized by Velamal Institute of Technology, Chennai on 23 -24 March,2023.
M MaithiliSaisree, D Aswini , K Sravani "Traffic Prediction for an Intelligent Transportation System using ML "Fifth IEEE International Conference on Inventive Computation Technologies(ICICT2022),organized byTribhuvan University, PulchowkCampus,Lalitpur,Nepal held on 20-22July, 2022.
M Maithili Saisree, B Poojitha ,K Vishnupriya "Structured Analysis on Movie RecommendationSystem using Machine Learning " Sixth IEEEInternational Conference on Intelligent Computing andControl Systems (ICICCS 2022), held at Madurai,organized by Vaigai College of Engineering during25-27May,2022.
FDPs/WorkshopsAttended:
Attended 5 Days International FDP on "Data Science and Chat GPT" organized by KLU- Deemed to be University in Collaboration with ExcelR 15th May,2023 to 19th May,2023.
Attended 5 days FDP on "New Age Technologies" organized by SCOPE, VIT-AP University, Amaravati from 28th Mar,2023 to 01st Apr,2023.
Attendedoneweek Online FDPon"IoT Induced Artificial Intelligence for Emerging Computing Paradigms"organizedby NIT, Jalandhar, from 04th -08thOctober 2022.
Attended Workshop on "High Performance Computing and its Multidisciplinary Applications"conducted by NIT Meghalaya and IIT Kharagpur under the aegis of National Super ComputingMission,from22-27th August,2022.
AttendedoneweekFDPon"AmazonWebServices"organizedbyCMREngineeringCollege, Hyderabad, in collaboration with Brainovision Solutions and AICTE from 22-27thAugust,2022.
Completed two week online live training on "Machine Learning using Python" Conducted byApptronixtechnologies–Noida,from21stFebruary2022to05thMarch2022.
Attended one week FDP on Machine Learning and Deep Learning "conducted from 21st to 26th February,2022 at Eswari Engineering College,Chennai.
Attended Two Weeks International FDP on "Recent Trends and Challenges in AI,IoT andBlockchain"organizedbyEswariEngineering College ,heldfrom9thto 18thFebruary,2022.
Top performer for the FDP "101x : Foundation Program in ICT for Education and 201x: Pedagogy for Online and Blended Teaching-Learning Process" conducted by IIT Bombay.
Certification Courses:
Completed 12 week NPTEL Course on "Ethical Hacking" during Jan-Apr 2022 organized byIITKharagpur.
Completed 8 week NPTEL Course on "Big Data Computing" during Aug-Oct 2021 organizedbyIITKanpur.
Completed8weekNPTELCourseon"ProgramminginC++"duringJan-Mar2020organizedbyIITKharagpur.
Completed8weekNPTELCourseon"IntroductiontoSoftComputing"duringJan-Mar2020organizedbyIITKharagpur.
Completed12weekNPTELCourseon"ProgramminginJava"duringJul-Oct2019organizedbyIITKharagpur.
Completed 12 week NPTEL Course on "Operating System Fundamentals" during Jul-Oct 2019organizedbyIITKharagpur.
Completed8weekNPTELCourseon"CloudComputing"duringFeb-Apr2019organizedbyIITKharagpur.
Completed8weekNPTELCourseon"DatabaseManagementSystems"duringFeb-Mar2018organizedbyIITKharagpur.
Completed 8 week NPTEL Course on "Programming, Data Structures and Algorithms Using C" duringFeb-Mar2018organizedbyIITMadras.
Achievements:
Recognized as NPTEL Discipline Star in the department of CSE,Jul-Dec2021
Memberships:
Contact Details:
EMail:mm@rvrjc.ac.in
Phones:Ext: 302