Smt. K.Venkata Ramana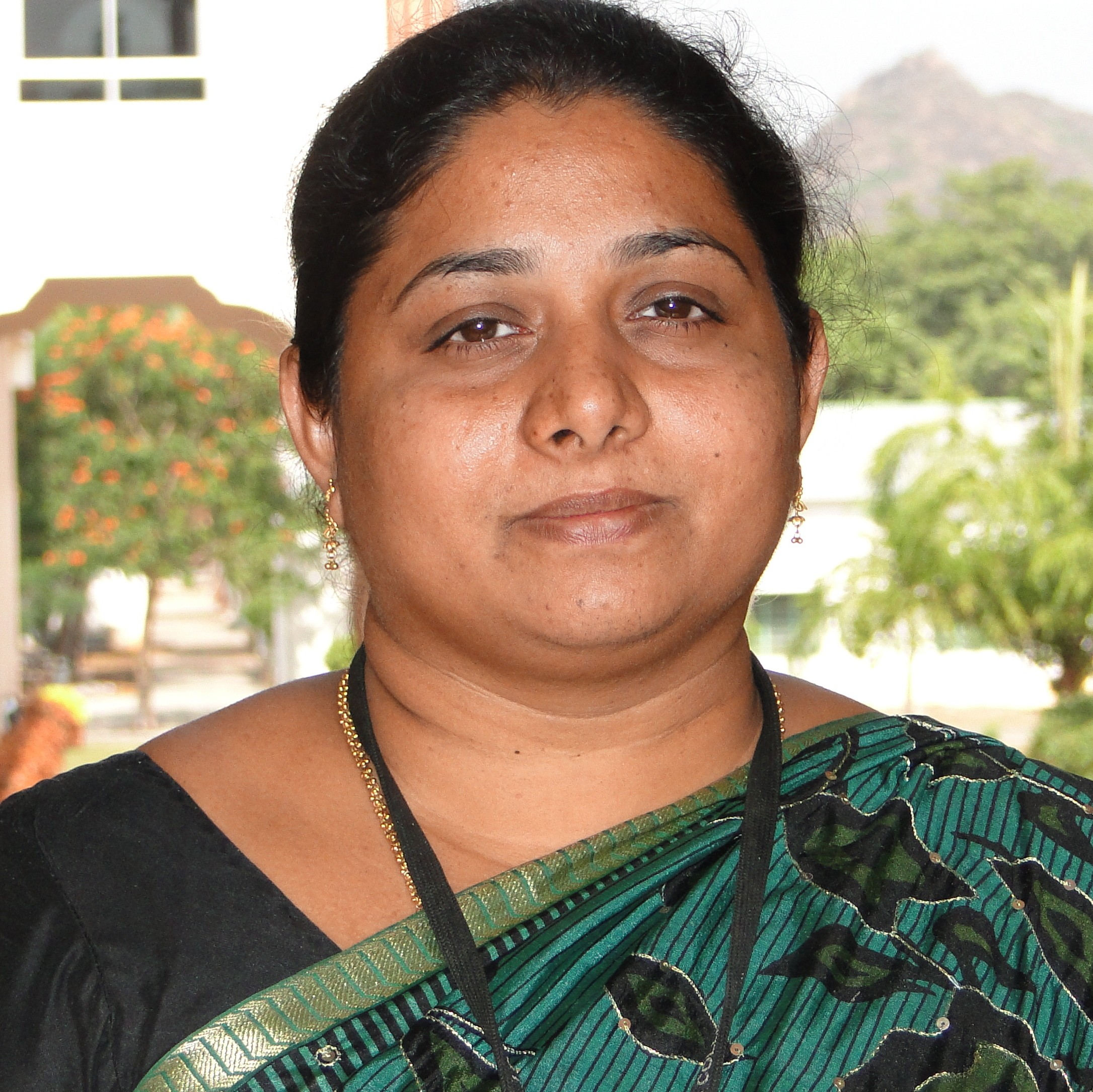 Designation:Associate Professor
Research Interests: Computer Networks, Cryptography and Network Security, Wireless Networks.
Qualifications:
2009-2010 Registered for Ph.D, ANU, Guntur, Andhra Pradesh, India.
2002-2003 M.Tech, Andhra University, Vizag, Andhra Pradesh, India.
1997-2001 B.Tech, R.V.R. & J.C. C.E. , Guntur, Andhra Pradesh, India.
Date of Birth: 16-01-80
Date of Joining: 24-07-08
Teaching Experience: 14 Years 5 Months
Papers Published:

A research paper on 'Low Switching Control of Three phase CHB 7-level Inverter using C-GA Algorithm' written by Mr. V.Joshi Manohar, Mr.P. Pandarinadh ,Ms. K. Venkata Ramana, Assoc.Prof was published in the International Journal of Scientific & Engineering Research (IJSER), Vol.7, No.7, pp38-42, ISSN:2229-5918,July 2016 .
Mr. V.Joshi Manohar, Ms. I.Sobha Rani, Ms. K.Venkata Raman, Assoc. Prof presented a paper on 'SHE controlled CHB 7-level Inverter with Equal &Unequal DC sources using C-Genetic Alogorithm' in IEEE International Conference on Communication and Electronics Systems (ICCES 2016) organized by PPG Institute of Technology, Coimbatore and Confy India, during 21- 22 Oct , 2016.
V.Joshi Manohar,K.Venkata Ramanab,"A Novel Approach in Control of CMLI at Low Switching Frequency using TLBO Algoritham", Austrain Journal of Basic and Applied Sciences, Vol 9, no.36, pp 413-420, Dec, 2015. ISSN-1991-8178
K.Venkata Ramana, S.J.R.K.PadminiValli V, V. Vijaya Lakshmi", A Novel Technique for Secure Data Transmission using Distributed Steganography and Cryptographic Techniques", International Journal of Engineering Research & Technology (IJERT),pp 642-646 ,Vol. 4 ,Issue 02, February-2015, ISSN: 2278-0181
K.Venkata Ramana,Ch.Aparna, "Privacy Preservation for Neural Network Training", International Journal of Computer Science engineering and technology, pp 728-733,Vol 5,No.6,June 2014,ISSN:2229-3345
Smt K.Venkata Ramana,Dr.B.Raveendra Babu, "Rough Set Teory Based Technique for Detection of Anonymous cloud Users without Trusted Third Party", Vol 2, Issue 6, June-2013.
Smt K.Venkata Ramana,B.Srikanth,"Firewall Policy Anomaly Detection and Resolution Using Rule Based Approach", International Journal of Innovative Research in Computer and Communication Engineering, Vol 1,Issue 3,May 2013.
K.Venkata Ramana, Dr.B.Raveendra Babu, Ch.Ratna Babu "A Randomized Secure Data Hiding Algorithm Using File Hybridization For Information Security" International Journal on computer science and engineering (IJCSE) ,vol3, No 5, ,pp 1878-1889, ISSN 0975-3397,May 2011.
Conferences
K.Venkata RamanaM.Sreelatha, Ch.Sunitha, V.Sushma, "Two level data hiding scheme: Using shape based cryptography and MIB steganography Technique", International Conference on Computer science and Engineering, Vizag, ISBN: 978-93-81693-57-5,April 2012.
Workshops Attended:
One day workshop on "Free Software-An Academic and Research Prospective" organized by R.V.R & J.C College of Engineering on 4th Dec 2010.
Attended Staff Development Program on Web Security organized by R.V.R.&J.C. College of Engg from 17-11-09 to 29-11-09.
Contact Details:
EMail:
kvr@ rvrjcce.ac.in
Phones:
+91 8632288254 Ext: 301