Smt.K.Aravinda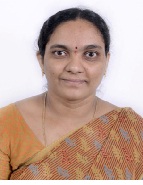 Designation: Assistant Professor

Research Interests:Image Processing and Data Mining

Qualifications:
2011-2013, M.Tech (CSE), R.V.R. & J.C. C. E., Guntur, Andhra Pradesh, India.
2006-2010, B.Tech (CSE), Acharya Nagarjuna University, Guntur, Andhra Pradesh, India.

Date of Birth: 05-05-1979

Date of Joining: 09-11-2000

Teaching Experience: 1 Year 6 Months

Programmer (Non-Teaching): 1 year

Computer Operator(Non-Teaching): 13 years

Papers Published in International Journals:
A.Srinagesh, K.Aravinda, G.P.Saradhi Varma, A.Govardhan, M. SreeLatha "A Modified Shape Feature Extraction Technique for Image Retrieval, ISSN: 2319-6378, Volume-1, Issue-8, June 2013.
Contact Details:
EMail:
ka@rvrjcce.ac.in
Phones:
+91 8632288254 Ext: 306