Sri. E. Ramesh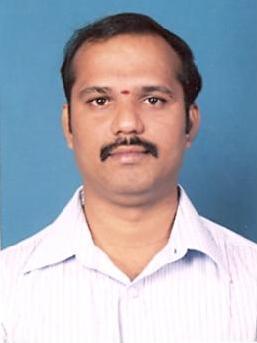 Designation: Assistant Professor

Research Interests: BigData , Data Mining

Qualifications:
2008-2010 M.Tech, ANU Affiliated College, Andhra Pradesh, India.
2001-2005 B.Tech, JNTU Affiliated College, Andhra Pradesh, India.

Qualified UGC-NET in 2015.
Qualified AP-SET in 2013.

Date of Birth: 12-06-82

Date of Joining: 08-02-06

Teaching Experience: 11 Years

Contact Details:
EMail: er @ rvrjcce.ac.in
Phones: +91 8632288254 Ext: 313

Papers Published in Journals/Conferences

Journals
A research paper on 'Efficient K-Nearest Neighbors Detection Using Complex Secure Assessment Function in Geo Tagged Dataset' written by Dr. Tarakeswara Rao.B, Mr. E.Ramesh, Asst.Prof, Mr. M. Srikanth, Assoc. Prof, was published in the South Asian Journal of Engineering and Technology (SAJET), Vol.2, No.39, pp.1-4,ISSN:2454-9614 Oct-Nov 2016.
Mr.M.Srikanth, Assoc.Prof, Mr. E.Ramesh, Mr.M.Mallikarjuna Rao, Assistant Professors, 'Automatic Annotation of Data Extracted From Large Web Sites' the International Journal of Modern Sciences and Engineering Technology(IJMSET) , Vol.3, No.5, pp.37-42, ISSN : 2349-3755, May 2016.
T.Babu Rao, E.Ramesh, Dr.Shaik Nazeer, "Classifiable Impulsive Data Hiding in Image Using Advanced Encryption Standard with Imitative Data Generation", International Journal of Modern Sciences and Engineering Technology (IJMSET), Vol.3, Issue 1, pp.15-21, Dec 2015, ISSN 2349-3755.
B.Varaprasad Rao, E.Ramesh, M.Asha Aruna Sheela, "Multipath Routing With Directed Acyclic Graphs in MANETS", International Journal for Research in Applied Science & Engineering Technology, Vol 3, Issue 5, May 2015.
K.Venkataiah, M.Srikanth and E.Ramesh , "An Approach for resilient multipath routing with independent directed acyclic graphs", International Journal of Advances in Computer, Electrical and Electronics Engg, Vol 3,oct 2013-Mar 2014.
E.Ramesh,V.Rajesh and , "A Novel Price Demand Model Designed for a Cloud Cache", International Journal of Advances in Soft Computing Technology, Vol 3, Issue 2, July-December, 2013.
E.Ramesh, M.Rammohan Rao, M.Brahmaiah, V.Rajesh , "schema and Design free keyword search inferences for XML Databases ", International journal of engineering Research and Development(IJERD) Volume 5,Issue 9 January 2013.
Conferences
A National Conference on Advanced Technologies in Computer Science organized by Dept of CSE Madanapalli Institute of Technology & Sciences.
A International conference on computing organizes by the department of computer science and engineering at Narasaraopeta engineering college Narasaraopeta. presented a research paper entitled Efficient K-Nearest Neighbors detection using complex secure assessment function in Geo tagged Dataset.
Dr. Tarakeswara Rao.B, Mr. E.Ramesh, Asst.Prof, presented a paper on 'Recognition and a panoramic view of Raaga Emotions of Singers-Application Gaussian Mixture Model' in International Conference on Recent Advances in Emerging Technologies,Basic Sciences and Business Research Methods(ICAETBSBRM-2016),organized by Department of CSE,St.Mary's Group of Institutions,Guntur, on 1 Oct,2016.
Guest Lecture Delivered:
National Seminar cum workshop on Bioinformatics , Topic :Bioinformatics Languages :Perl and Unix DBT-BIF Programme,Conducted by Dept of BT,ANU, 27-28 March-2012
Memberships:
Life Membership of Indian Society for Technical Education, New Delhi.
Annual Membership of ACM.