Sri. Ch. Ratna Babu
Go to
Personal Webpage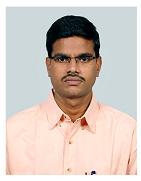 Designation: Associate Professor

Research Interests: Cryptography and Network Security

Qualifications:
2009 Registered for Ph.D, ANU, Guntur, Andhra Pradesh, India.
2004-2006 M.Tech, ANU Affiliated College, Andhra Pradesh, India.

Date of Birth: 16-04-79

Date of Joining: 25-11-03

Teaching Experience: 14 Years

Journals
A research paper on 'Precise Information Obtained by using Greedy' written by Mr.Samuel Babu.K, Mr. Hajarathaiah. K, Mr. Ratna Babu. Ch, Assoc.Prof was published in the South Asian Journal of Engineering and Technology (SAJET), Vol.2, No.45, pp.1-5, ISSN:2454-9614,Oct-Nov 2016.
Mr. Ch.Ratna Babu, Assoc.Prof, Mr. D.Veera Chaitanya , Asst.Prof, Ms. K.Bhagya Sree 'Enhanced P2P File Access Convenience in Mobile Adhoc Networks Through Replication for Effective File Sharing' the International Journal of Innovative Technologies (IJITECH) , Vol.4, No.4, pp.0686-0690, April 2016.
Ch. Ratna Babu, Dr. M. Sreelatha, K. Praveen Kumar, "Next Generation Eco-System of Big Data", International Journal of Advanced Research in Computer Science and Software Engineering, Vol 5, Issue 7, pp 36-39, July 2015, ISSN: 2277 128X.
Ch.Ratna Babu, Y.Narasimha Rao, N.Suresh Kumar, Ch.Vytarni, Dr.GSVP.Raju "Mimicked Web Page Detection Over Internet", International Journal of Electronics Communication and Computer Engineering, pp-104-108, Vol 5, Issue 1, January, 2014.
M.Sridhar, Dr.B.Raveendra Babu, Ch.Ratna Babu, "A Hybrid Algorithm for Privacy Preserving in data Mining", International Journal of Intelligent Systems and Applications, pp 47-53,Vol 08,July 2013,DOI: 10.5815/ijisa.2013.08.06.
Ch.Ratna BabuA.S.S.S.Sudhamsu," Document Images Certification via PNG Image with a Visual Cryptography Method ", International Journal of Advances in Computer,Electrical & Electronics Engineering,Vol 2, Issue 2, April- Sept 2013.
Ch.Ratna Babu K.Venkata Ramana, Dr.B.Raveendra Babu, "A Randomized Secure Data Hiding Algorithm Using File Hybridization For Information Security", International Journal on computer science and engineering (IJCSE) ,vol3, No 5, ,pp 1878-1889, ISSN 0975-3397,May 2011.
Ch.Ratna BabuVenkata Satish Babu. B,"A Multilayer Image Steganography based on DCT Transform and Mod16 Algorithm", International Journal on computer science and engineering (IJCSE), VOL III ISSUE III, VER. 4, JULY TO SEPTEMBER, 2012
Conferences
Ch.Ratna Babu,"Information Hiding in Grey Scale Images using PseudoRandomized visual cryptography algorithm for visual Information Security", International Conference on Information Systems &Computer Networks(ISCON), 9-10 March, 2013.
Ch.Ratna Babu ,"Improved PRVC algorithm for halftone Images"National Conference on emerging trends in information Technology(NCETIT-2013) organized by Gitam University and published by Elseveir ,29-30 March, 2013.
Contact Details:
EMail:
chrb @ rvrjcce.ac.in
Phones:
+91 8632288254 Ext: 302
Books Published:
Sri Ch. Ratna Babu, Asst.Prof and Sri B. Satyanarayana Reddy, wrote a book " C-Book for distance Education ANU" , BPB Publications.