Sri.N. Hanumantha Rao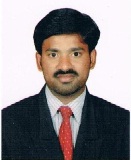 Designation:Assistant Professor

Date of Birth: 30-08-1983

Date of Joining: 03-06-2013

Research Interests:Digital Image Processing, Parallel Computing.

Qualifications:
2013, Registered for PhD, JNTUK, Kakinada, Andhra Pradesh, India.
2006-2008, M.Tech (Computer Science and Engineering), VIT University, Vellore, Tamilnadu, India.
2001-2005, B.Tech (Information Technology), Vignan's Engineering College Vadlamudi, Guntur, Andhra Pradesh, India.

Teaching Experience:10 Years
Papers Published:

Dr. A.Sri Nagesh, Assoc. Prof, Mr. N.Hanumantha Rao , Asst. Prof, Mr. D. Raj Vikas 'A Novel Texture and Sharp Pattern Based Feature Extraction Technique for Image Retrieval in Medical Images' the International Journal of Emerging Trends & Technology in Computer Science (IJETTCS) , Vol.5, No.3, pp.241-250, ISSN : 2278-6856, May-June 2016.
N. Hanumantha Rao, A. Sri Nagesh, P.Rambabu, Dr. G.P. Saradhi Varma," A New Digital Encryption Scheme: Sub areas Exchange Encryption Approach", International Journal of Emerging Trends in Science and Technology (IJETST),pp 1829-1835, Vol2, Issue 2,Feb 2015,ISSN: 2348-9480.
Hanumantha Rao. N, Rajasekhara Babu. M , Madhulika.Y, "Analysis of Cache-Coherence protocols for Multi-Core Architectures", Journal of Innovation in Electronics and Communication ISSN No 2249 -9946, Vol. 3(1), Jan-June 2013.
Madhulika.Y, Dathathreya.P, Hanumantha Rao.N , "Efficient Extraction of Word Aliases from Web", IRACST - International Journal of Computer Science and Information Technology & Security (IJCSITS), ISSN: 2249-9555,Vol. 2, No.6, December 2012.
Contact Details:
EMail:hanu@ rvrjcce.ac.in
Phones:Ext: 313