Mr. Ambati Rami Reddy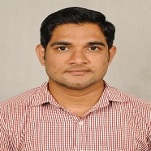 Designation:Assistant Professor

Research Interests:Data Mining, Machine Learning, Big data Analytics

Qualifications:
2013-2015 M.Tech (Compter Science & Engineering) from CEG(Anna University Campus), Chennai, India.
2007-2011 B.Tech (Compter Science & Engineering) from ANU, Guntur, AP, India.

Date of Birth: 11-08-1989

Date of Joining: 15-06-2017

Teaching Experience: 2 Years

Working as Assistant Professor, RVR & JC College of Engineering, Guntur from 15th June 2017.
Worked as Assistant Professor from 18th Nov 2015 to 14th June 2017 in the Dept of Computer Science & Engineering, K L University, Vaddeswaram.
Certifications:
NPTEL Online Certification " Programming, Data Structures And Algorithms Using python" with Elite from Jul-Sep 2017(8 Week Course) .
Certificate of Course Completion " CCNA Routing and Switching" from Cisco Network Academy, K L University,2016.
Papers Published in Journals/Conferences :
Varalakshmi.K, Ashok Kumar P.M , Rami Reddy A, Kavitha D " A NOVEL DATA HIDING TECHNIQUE BASED ON IMAGE PROCESSING TECHNIQUES" in Journal of Advanced Research in Dynamical and Control Systems Vol. 9. Sp- 6 / 2017.
Conferences/FDPs/Summer Schools/Workshops Attended:
Four-Week AICTE approved FDP on '' Foundation Program in ICT for Education and Pedagogy for Online and Blended Teaching-Learning Process" from 3 August to 12 October 2017 conducted by IIT Bombay.
A Two Day International Conference On "Recent Trend and Issues In Computer Science & Systems Engineering (ICRTRICSE-2k15)", Andhra University, Visakhapatnam-530003, India. 2nd- 3rd May 2015.
Contact Details:
EMail:aramireddy@ rvrjcce.ac.in
Phones:Ext: 302